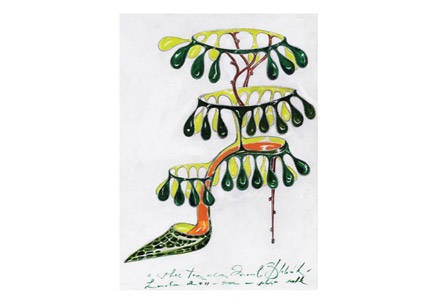 Manolo Blahnik
Over the past 30 years, Manolo Blahnik has become one of the world's most influential footwear designers. A prodigiously gifted craftsman, the delicately shaped lasts and heels created for his shoes are still perfected with his very own hands. The lines and silhouette of his distinctive handwriting and beautiful sketches remain instantly recognisable as unique, inimitable exercises in precision and balance, exquisite workmanship and luxury. "Shoes", Manolo says, "help transform a woman", and he is the ultimate master of this maxim.
ʻAlbero'
An exquisitely delicate shoe. Crafted in crocodile, silk satin leaves encase the ankle, while the foot rests on orange satin lining.
In addition to the shoe, for Cabinet de Curiosités, Manolo has produced one of his much sought-after paintings. Perfectly capturing the delicate beauty of ʻAlbero', this is a once in a lifetime opportunity to own a piece of fashion history.