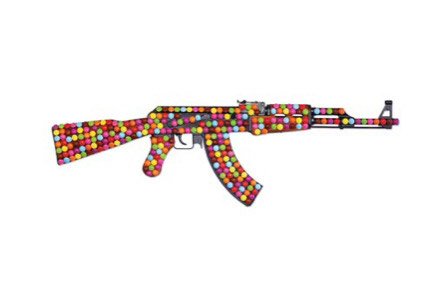 Kata Legrady
Kata Legrady was born in 1974 in Barcs, Hungary. Although a classically trained musician, she eventually chose the fine arts. Kata Legrady lives and works in Hanover, and has attracted international fame for her iconic series ʻGuns and Candies'. Audiences have been entranced by her intention to use immediately identifiable objects to compose an anti-portrait of a never figured or represented reality.
The Piece
'AK 47 Kalashnikov, multicolor original gun with applicated Smarties covered with Plexiglass'
The internationally celebrated series, ʻGuns and Candies' was started in 2008, and is a set of colorful and oversized pieces exploring Legrady's double fascination with war arms and candies. The Smarties are simultaneously enigmatic, alluring and scary, and appear to leave a residual trace on the retina, like a persistent dream or a meditative vision. Truly popular art in the very Warholian meaning of the word, these images and artifacts are universally accessible and immediately identifiable. They demand only a little empathy from the viewer's part, therefore investing each beholder with a power to reveal both their symbolic and artistic qualities.