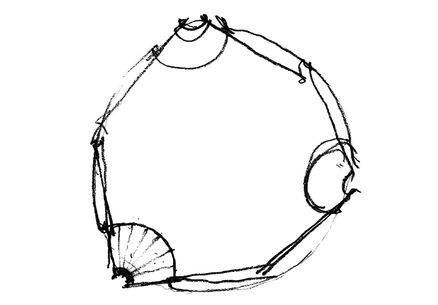 Artek
Design – Helsinki
www.artek.fi
X600 Stool
Limited Edition: 7
—
Founded in 1935 by four visionary designers, Artek's ideology and radicalism are more vibrant today than ever before. With a firm belief in a grand synthesis of the arts, Alvar and Aino Aalto, Maire Gullichsen and Nils-Gustav Hahl have created innovative and modern archetypes for human living. While entering a new era, the continuity of traditional methods of production ensures that Artek furniture ages in style and lasts forever. In recent years, de Betak has broadened his creative profile by designing light installations and limited edition furniture for exclusive houses such as Domeau Peres, Artcurial and Swarovski. He also designed the Parisian restaurant Black Calavados, a disco room for the Hotel Amour, and his acclaimed Mallorca house and all it's organic components.
X600, design Alvar Aalto 1954
This special edition of 7 pieces for Le Cabinet de Curiosités de Thomas Erber is handcrafted in leather and solid wood, with X-legs painted in black.
The X-leg was Alvar Aalto's third standard furniture leg prototype and was born as a result of Alvar Aalto's important architectural projects in the 1950s. Based on its shape, which is a combination of five thin interlinked L-legs, the new leg was also called the "fan leg".
A new series of X-leg stools, tables and armchairs was launched in 1954.