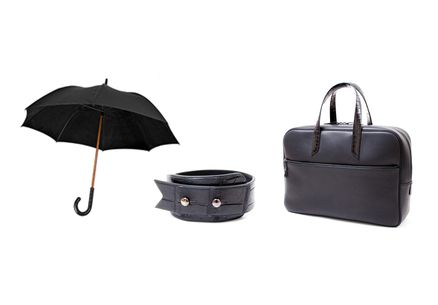 La Contrie
Leather Goods – Paris
www.lacontrie.com
Saint-Anne bracelet, Marengo bag and Umbrella
Unique piece
—
In a two level workshop-boutique, laContrie hand-makes leather and exotic skin bags and accessories in the heart of Paris, between the Palais Royal and Place Vendôme. Thomas Erber, being passionate about craftsmanship, wanted to collaborate with us. He asked us to create an exclusive and unique product for the Berlin edition of Le Cabinet de Curosités at Andreas Murkudis.
laContrie is presenting a selection around a singular object, an umbrella inspired by the surrealist artist Meret Oppenheim. Totally covered in Barenia calfskin with a porosus crocodile skin handle,
it is paired with our new Marengo bag crafted in the same materials and a re-proportioned Sainte-Anne bracelet.