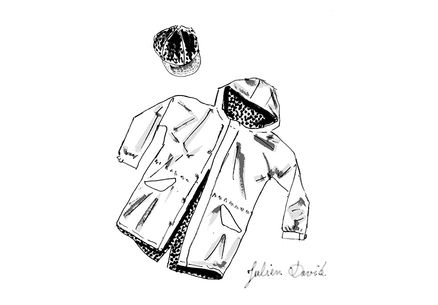 Julien David
Fashion designer – Paris & Tokyo
www.juliendavid.com
Parkas and matching Caps
Limited Edition: 15 Caps (8 x M, 7 x L) and 4 Parkas
—
In his collections Julien David uses materials such as silk, cashmere and specially developed wool. He finds inspiration in contemporary influences, sub-culture elements and street culture references. He manufactures his pieces in Japan, where all work is overseen by master silk-makers and tailors.
For Thomas Erber's Cabinet de Curiosités, he has designed a 100% waterproof breathable nylon Navy Parka, with a removable liner made of extra soft Japanese Houndstooth wool. Both the zip and snap buttons fasten under tab, drawstrings are located at the bottom and waist, and the parka is completed with two outer flap pockets and two inner pockets, especially designed for an iPad and iPod. In addition, the Cabinet displays a matching Houndstooth wool fitted cap, with embroidery at the back and a soft cotton lining.
With these items, Julien David has created a unique pairing of urbanwear with the most sophisticated, refined fabrics. The wool used for these pieces was made in Ishinomiya, Japan with a special bi-directional weaving method, giving a soft feeling and making for a striking unique look. The ultra light Nylon fabric condenses when exposed to cold temperatures.