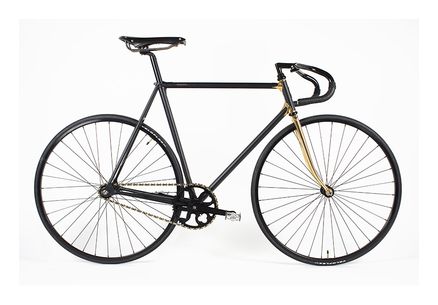 Heritage
—
Since its foundation, the Héritage-Paris company - created by Cyril Saulnier, member of the biCycle Store team with Alexandre and Simon Billard - has alloted a serial number to each of its bikes.
Number « 007 » had been deliberately put aside until a special occasion arose. Today, for Thomas Erber's exhibition room, Heritage-Paris has designed the HOO7 Goldfinger Bike, a tribute to James Bond.
Undeniably upper-class, totally effective and wonderfully attractive, the H007 Goldfinger is an absolute must in terms of luxury and technology.
What makes this "jewel" so special is that the forks and lugs of the frame have been steeped in a bath of 24-carat gold.
As the other part of the frame - made of Columbus Niobium steel - is painted matt black, the contrast between the two shades of colour exudes self-confidence and sobriety, typical attributes of the famous secret agent.
The remaining parts of the bike would also meet James Bond's expectations. The black leather Brooks saddle would perfectly match his John Lobb shoes while the state of the art details (handlebars, stem, crankset, chain) would compliment the shades of the hero's suit.
100% Black and Gold. Nothing more, nothing less. For your eyes only.