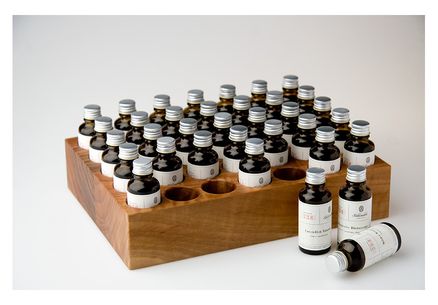 Christoph Keller and Stählemüle
Aqua Vitae – Germany
www.staehlemuehle.de
Stählemühle Tasting Kit No. 001
Limited numbered Edition: 1 kit with 35 miniature bottles
—
For the first time ever, Christoph Keller has assembled a sensory tasting kit of 35 different distillates in an exclusive, high-end edition.
The spirits range from assorted eau de vies – such as cherry, plum, apple and pear – to wild fruit-based spirits – including rowanberry, elderberry, citrus and carob – through to distillates flavoured with herbs such as rosemary or coriander.
As well as providing pleasure for anyone who appreciates dense natural aromas and a unique sensory experience for connoisseurs, the kit also serves as a training tool for top sommeliers and enthusiasts: like the "Nez du Vin" for the field of fine wines, this nosing kit teaches how to approach naturally distilled spirits.
The collection of 35 miniature bottles is presented in a large walnut case with embossed bellyband. Each one comes with a signed and numbered certificate.