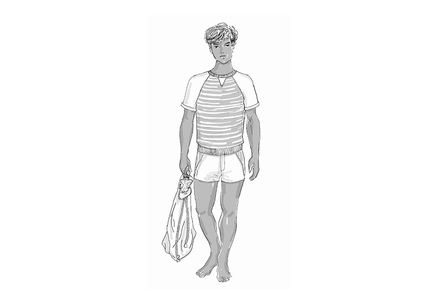 Robinson les bains
—
Robinson Les Bains is a French luxury men's swimwear brand that combines fashion with the sporting life.
For The Cabinet de Curiosités de Thomas Erber, designer Christophe Vérot has created a yachting outfit consisting of a light jumper with matching tight shorts and towel fabric bag.
Vérot, a fashion veteran who has held numerous positions within the industry – including PR for Hermès, Balenciaga and Viktor & Rolf and sales for Dior Homme, Louis Vuitton and Yves Saint Laurent – launched Robinson Les Bains in 2007. Inspiration for the brand came one summer when Vérot was on holiday and realized he couldn't find a bathing suit that worked for him, deciding then and there to create a line for the refined gentleman, as conscious of his look on the beach as he is on his yacht.