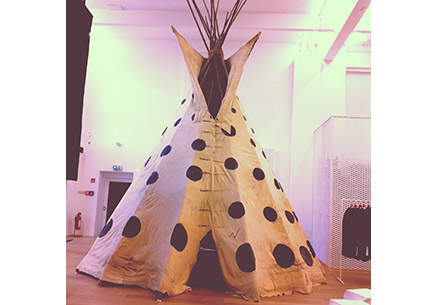 Visvim
—
My interest in fashion is deeply rooted in the charm of its inherent freedom. Freely creating things from my imagination, and sharing those things with many people. I was captivated by this charm.
While driving down a road in the American countryside, I gazed upon a teepee, so nomadic in nature, and was filled with a sense of nostalgia. I used to have dreams of sleeping in a teepee when I was younger.
Growing older, bound by obligations; since when did we lose sight of what it means to be free?
Last year at our exhibition in Paris, we raised a teepee as a symbol of our return to freedom.
I learned the craft of teepee-making from a Montana park ranger and will hand-sew a 10 to 15 foot teepee for Le Cabinet de Curiosités de Thomas Erber.
—
*Teepee
- Teepees were shelters used by nomadic hunter-gatherer Native Americans.
- 10 foot teepees require 10 buffalo hides to complete.
- The hides are sewn together with sinew from the buffalo.