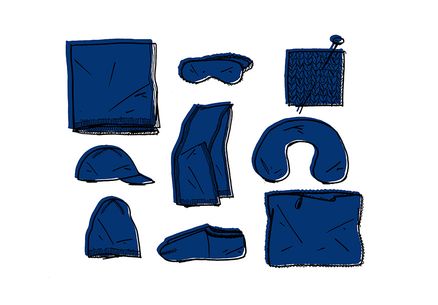 Wommelsdorff
—
The German designer, Anne Schramm, creates an extensive accessory line named after her grandmother: Maria Wommelsdorff. The collection of hats, hair accessories, scarves and stoles is hand crafted of luxurious, sustainable materials.
She experiences with techniques, handed down through generations, and creates cutting edge modern accents.
Wommelsdorff has created this special travel kit exclusively for Cabinet de Curiosités de Thomas Erber. Handmade with the finest Italian pure cashmere and dyed in Berliner Blau, a colour developed in 1706 by Johann Jacob Diesbach in Berlin the functional Berliner Blau – Travel Kit transforms the stress of travelling into a sensual experience of luxury, coziness and pure comfort.
—
The travel kit includes:
− 1 blanket / stole 130x150
− 1 pillow / bag
− 1 sleeping mask
− 1 travel pillow adult
− 1 travel pillow kid
− 1 pair of lounge socks
− 1 scarf (130x29)
− 1 knitted cap
− 1 knitted hat